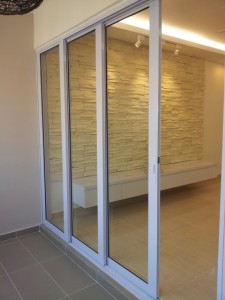 Aluminium Sliding Doors combines durability, reliability and security into a total performance Sliding Door System. These aluminium sliding doors are built with heavy-duty rollers that fit to the extruded track of the profile for smooth and easy operation. For extra large opening, it can be made up to six panels to give the greatest view of all.
Excellent for space divider, it can convert 2 small rooms into 1 big room space.
Great for space restrain if you have no space for folding doors to be folded.
Panels can be fitted with glass and acrylic.