Aluminium Folding doors or Stacking doors. These modern innovative doors allow exceptionally large openings, opening up your space to balcony, patio and to let the outdoors in. They glide open with an almost effortless gliding option, due to being set on Heavy Duty Rollers. This can be achieved by using modern technology and State-of-the-Art hardware designed for easy functionality and long term reliability.
Folding Doors, they are more efficient since they fold back on themselves and give an almost 100% opening.
Heavy Duty Top-Hung Folding Door, meaning it does not require a bottom track. The door is secured by means of Heavy Duty Rollers on the Top Track.
Aluminium is used for the frame of the Folding Doors, and glass or acrylic materials for the panels.
Aluminium Folding Doors are generally preferred because it is anti-rust and perfect for use in high traffic areas, where there is more usage due to wear & tear and weather. The strength of the aluminium Folding Doors is another advantage.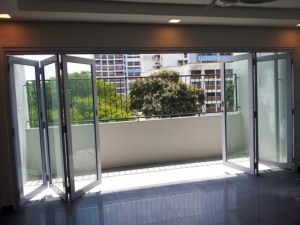 Simple, Elegant and Practical – the inward or outward opening folding door design is the perfect space saving solution. Folding doors can be custom designed to your individual taste and specifications so that you can take full advantage of your surroundings. These doors have multiple panels, between 3 panels to 9 panels depending on the entire width of the opening area, which fold upon one another when opened and stacking away neatly and compactly.