Bi-fold doors are great space savers in small area as they do not need the space that a Swing door requires for opening and closing. They are highly effective since they fold back on themselves to create an almost 100% opening. Popular for kitchen entrance, bathroom, storage room and so on, they can be custom made to suit any home decor.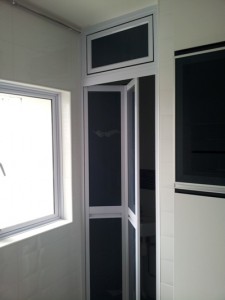 CONFIGURATIONS
Normal Bi-fold Door, which has top and bottom track. This is the most common and more cost effective option.
Heavy Duty Top-Hung Bi-fold Door, the door is secured by means of Heavy Duty Rollers on the Top Track and it does not require a bottom track. It is more durable than the conventional Bi-fold door.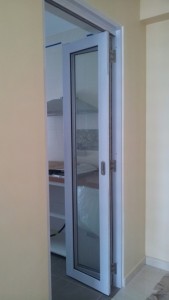 MATERIALS
Aluminium Frame is used for Bi-fold doors, and for the panels used are Acrylic panel or Glass panel. Aluminium Bi-fold Doors are generally preferred in high usage areas, because it is durable and anti-rust, perfect for use in wet or dry areas.